---
Renaud Champignons France opts for Voltron in its entirety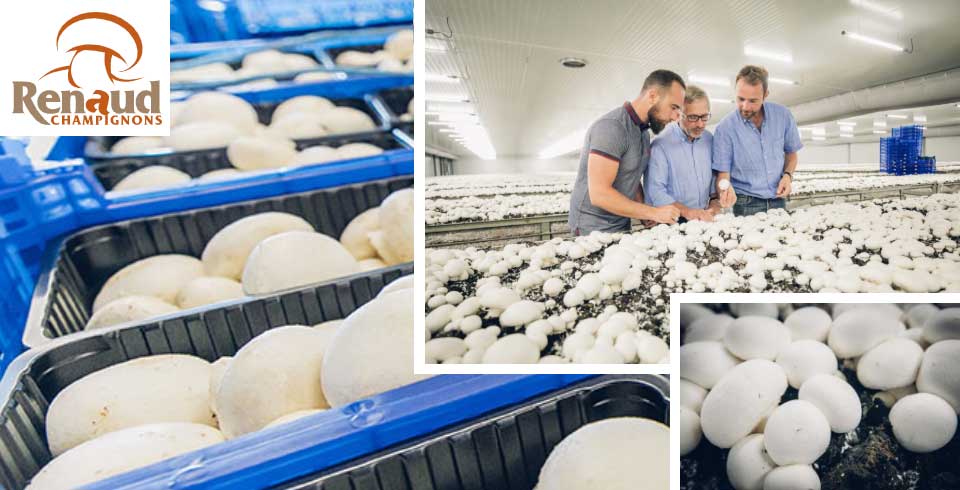 Renaud Champignons is an established value in France as the largest mushroom producer.With a sloppy yield of 220 tonnes of mushrooms per week spread over 47 growing rooms and their own compost departments, their requirements were very high.The past has taught them that the emission of ammonia vapors in the compostery has a very negative influence on the lamps used (traditional and LED).After numerous tests with all kinds of different lamps and arrangements for years, where they were obliged to replace all lighting every 2 years, the question was asked last year to Voltron® whether there was no solution to avoid this expensive cost.After thorough research, the LED BAY SUPER SERIES (type: BS-200W-BA-DW-90) were equipped with a very special lacquer layer and special seals that are now also offered as standard for all projects.Due to the completely closed and hermetic design, corrosive vapors cannot penetrate into the lamp or the light source and together with the special coating that has also passed a 96-hour salt test, this was the solution.As well as the unique concept where the LED power supply as the light source itself is replaceable, it only makes it more cost-effective in this concept if one speaks about a second, third, fourth lamp life cycle and of course a major cost reduction.After intensive on-site testing, it was decided that all relighting and newlighting will be carried out with the LED BAY SUPER SERIES (type: BS-200W-BA-DW-90) from Voltron®.The installation will be installed within a period of 6 months through their local electrician.We wish the entire management and staff of Renaud Champignons every success with their new lighting!
---
Some satisfied end customers
Ideas and concepts
We invest a lot of time and research into new concepts, products, technologies. That way we can always provide our customers with up-to-date high-end products.
Latest new technologies
Optimized production and flexible R&D developers result in the latest new up-to-date technologies.
Design & OEM
We produce OEM products and specialize in custom development.
Circular LED
Our products are produced in such a way that all critical parts are replaceable, ready for a second, third, fourth, ... life cycle. This is a real win situation in your investment in the medium long and long term.
---