---
New patented silicone technology for LED strip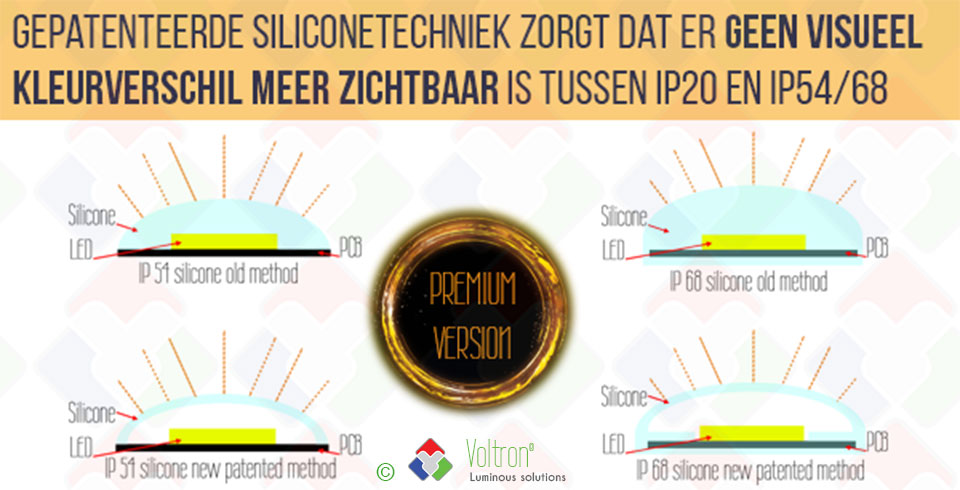 Breakthrough in the production of LED strips.The patented silicone technology that Voltron® uses does a hitherto unprecedented upgrade of their LED strips with their Premium version.What is it about ?No more color difference between the IP20 LED strip and the IP54-68 LED strip. This means that, for example, an LED strip (IP20) placed at the bottom of a cabinet does not show a visible color difference in Kelvin degrees compared to an LED strip (IP54-68) placed close to the hob. This is unique in the LED strip world.We are also seeing more and more that the MacAdam factor of LED chips used on LED strips is often much too high, up to a 7-step MacAdam (7-step MacAdam).MacAdam steps determine how much color difference there is between the chips. The higher the number, the worse, the smaller the number, the better.SDCM is an acronym that stands for standard deviating color matching. SDCM has the same meaning as a "MacAdam ellipse".A 1-step MacAdam ellipse defines a zone in the CIE 1931 2nd (xy) color space, in which the human eye cannot distinguish a color difference.Most LEDs are at the 4-7 step level, in other words, you can definitely see color differences in LEDs that apparently have the same color.MacAdam 1step = + - 30K difference, 2 step = + - 60K difference, 3 step = + - 75K difference, 4 step = + - 100K difference, 7 step = + - 175K difference.Very high quality LED products are equipped with LED chips that have a MacAdam below 5.If you then know that our LED strips are 3 MacAdam, then you know that you will get a top LED strip.In addition, the Premium version received a revised revolutionary production system for an even better conductivity (3 ounce pcb) and guarantees extra cooling.In short, a top product with a higher quality that meets the strictest standards that puts competition in the shade and last but not least for the same price.If you would like more information about our Premium version, please do not hesitate to contact us.
---
Some satisfied end customers
Ideas and concepts
We invest a lot of time and research into new concepts, products, technologies. That way we can always provide our customers with up-to-date high-end products.
Latest new technologies
Optimized production and flexible R&D developers result in the latest new up-to-date technologies.
Design & OEM
We produce OEM products and specialize in custom development.
Circular LED
Our products are produced in such a way that all critical parts are replaceable, ready for a second, third, fourth, ... life cycle. This is a real win situation in your investment in the medium long and long term.
---