---
The Parker - One size fits all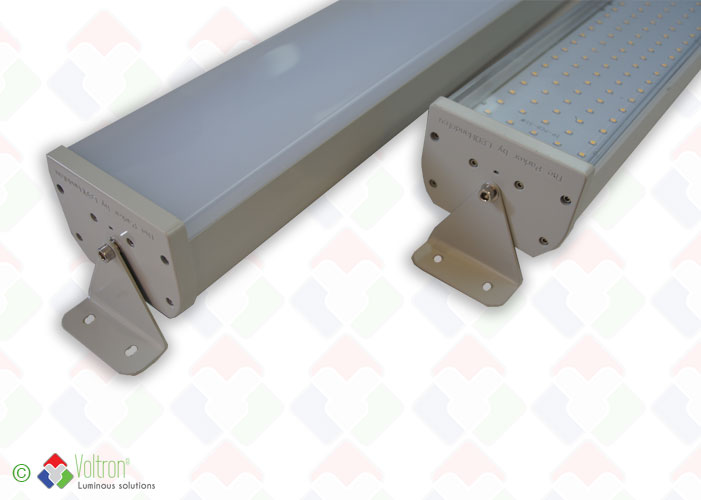 After 8 months of development and improvement in design, we are proud of our new offspring.The Parker is the perfect solution for relighting and newlighting in many possible situations:• Warehouses• Production halls• Underground parking• Sports complexes• Offices• Technical areas• Greenhouses• Paint streets1 fixture is multifunctional:58W: OP = 5520 lm, TR = 6585 lm81 W: OP = 7803 µm, TR = 9651 µm• Can be tilted 180 °• Dimmable option• Suspension or with bracket mounting (quick mounting)• Opal or transparent cover• Upright mounting possible• Connections are made outside the luminaire (= time gain)Sustainable :• Essential components individually replaceable• Version entirely in aluminum• 1.65m² cooling surface• Can be used up to a height of 12 meters• Up to 50% less consumption• Ecological design: no disposable device but a permanent stayer within the installation.As everyone knows, LEDs also emit heat, just like the power supply that they use.All too often the luminaires become "all-in-one". If 1 component needs to be replaced, this is simply not feasible.Either the luminaires are completely sealed or the components simply cannot be replaced.This is totally not ecological, nor is it profitable within a long-term investment.The Parker goes a step further in this regard.All components are immediately replaceable.The power supply is mounted outside the fixture, so that heat has absolutely no influence on the LEDs or fixture.The PCB can simply be replaced like a traditional lamp.Heat is and remains a very important factor in the development of LED fixtures.Too high temperatures will cause the "light decay" or light reduction to start much faster than when the LEDs are properly cooled.When an LED power supply is incorporated in the fixture, it will also give off the heat and it is referred to as boiling out of the inside.The lifespan of the LEDs and power supply will be considerably shortened as a result.The Parker is constructed in such a way that there is 1.65 m² effective cooling area!The extra thick PCB that makes direct contact on 3 sides of the housing ensures that the heat will be absorbed directly and very quickly by the housing.Due to the unique curved design and cooling fins on the back, a round swirl of air was created so that there is extra and direct cooling through natural ventilation, air flows.All this ensures that the lifespan of The Parker increases considerably.The Parker is also unique in terms of assembly time.Where in larger installations 1 person assembles and the next one - a recognized electrician - makes the connection to the mains, it is important that the total hourly cost for the installation is as low as possible.Because the total cost is not only the fixture but also installation (total cost of ownership).The Parker can be tilted through 180 °, making it easy to tilt it away after installation on the ceiling or wall, giving direct access to all connections!Also because this fixture is made entirely of high-quality aluminum, it is a stayer within an installation.The PCB and the power supply can always be replaced.This fixture is also immediately suitable for suspension on iron cables with the "quick fix" connection.The unique concept of "one size fits all" ensures that with 2 luminaires one can come to 6 different versions.1 and the same PCB can handle either 81 Watt or 58 Watt.Just the right and correct power supply on the back determines the power and lumen output.Dimmable? Of course, simply place the special dimmable power supply and The Parker can be used immediately as a Smart Light!Fewer types of this fixture ensures less inventory and is therefore cost effective.Download the introduction flyer in pdf:
click here
In short, be surprised by this fixture and request your demo from your wholesaler or contact LEDHandel for more information.Made in Belgium by Didier Glorieux
---
Some satisfied end customers
Ideas and concepts
We invest a lot of time and research into new concepts, products, technologies. That way we can always provide our customers with up-to-date high-end products.
Latest new technologies
Optimized production and flexible R&D developers result in the latest new up-to-date technologies.
Design & OEM
We produce OEM products and specialize in custom development.
Circular LED
Our products are produced in such a way that all critical parts are replaceable, ready for a second, third, fourth, ... life cycle. This is a real win situation in your investment in the medium long and long term.
---